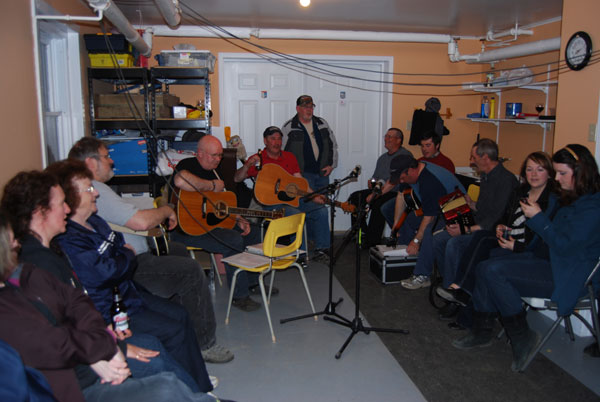 Click on the photo to listen to an MP3 of the 2011 Conche Community Radio Kitchen Party.

Saturday: Lots of problems with internet access on Saturday night.

The problem seems to be Saturday night internet congestion. Later in the
night it came back and our many listeners across North America were
back in the room requesting songs.

But we are committed to finding the Kitchen Party 14 audio and producing
another podcast. Stay tuned!

We added a Flash Player for the Internet Radio stream.
It will automatically start if you wait for it and you have Flash installed.
Otherwise, click on the link above to go to a variety of media players.

Stay tuned for the Conche Kitchen Party tonight!

Friday: The 2014 Kitchen Party is Saturday night but we also had music after supper on Thursday.

This is Open House Radio. Everybody is welcome to drop by, sing a song,
tell a story, or just hang out around the kitchen table.

Note: We are going to have a few technical snags : ) As well as Skype-ins,
Facebook and Skype, we are also trying to operate through the internet
repeater radio stations down the peninsula in Cow Head
and Trout River.

Thanks to Grefell for their financial support. Also thanks to Gary Wilton
of VOBB for introducing us to remote software.

We had to change webcast servers this morning:

http://www.ryakuga.ca/webcast2/

Windows Media Player: if you have problems with the new webcast, here's
how Ivan connected on his laptop. Click on Windows Playlist, click
"keep". It will download a playlist, double click the playlist and it will open windows media.

Wednesday: we are on air in Conche playing recorded programs until Joan comes back from the store. Enjoy!

This year Conche is hosting the fourth annual meeting of Network 14 - the community media
volunteers of Newfoundland and Labrador - October 22 to 25, 2014.

So we are broadcasting at 105.9 Stereo FM in Conche - with repeaters 95.1 in Trout River
and 104.7 in Cow Head. Our partners include VOBB (the Voice of Bonne Bay) and Grenfell College (MUN).

You will be able to connect to our global internet radio station from the link at the top of this page.

Stay tuned!



Everything either on or linked to
from Ryakuga websites is the
copyright of the respective writer or
artist and should not be reproduced
without their permission.